My experience
in job research in the USA...
for an Architect/Designer position...
6 months after the beginning, I am still looking for a job...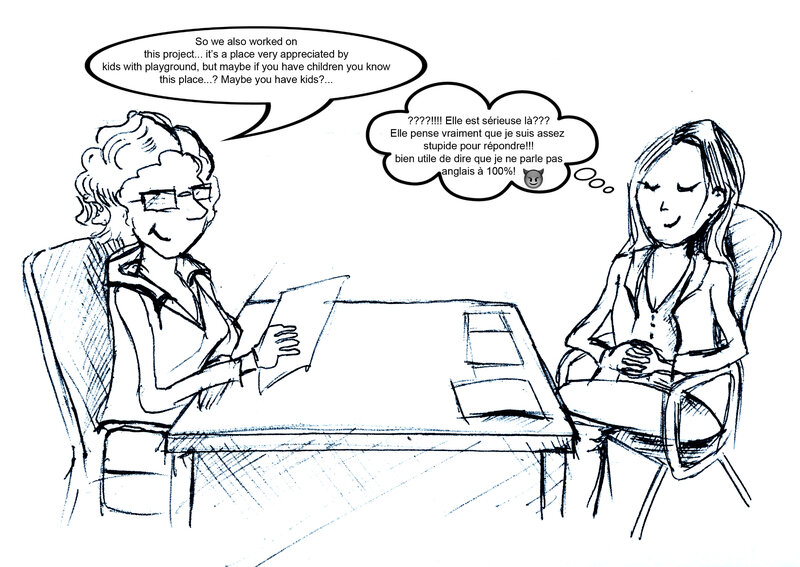 ---
WHAT I THOUGHT
I got my French certification in France and I finished my studies just before I moved here, in the USA… Almost 3 years ago! As a result, I did not have a long professional experience before that. Anyway, my husband was confident because he thought that the "artistic touch" or the "French touch" could be really appreciated in the USA.
---
THE REALITY I didn't realize this before coming here
As of today, I have had 9 interviews and some in very good companies as Gensler (including 2 interviews with each of 3 different companies) and I really started my research last September! It's a lot of interviews and I am always looking for a job!
My husband was right! My French touch is really appreciated here because I'm able to get some interviews but the reality is that it is not enough to find easily a job in the USA as a foreigner architect!
Why?
I am thinking about four principal reasons:
1. I realized after talking with some professionals that there are so many architects looking for a job in Massachussets. Maybe it's easy to get a job for an architect position in some other states but not in Massachussets… Maybe because there are two very good schools (HARVARD and MIT) and so the competition is hard?
2.Maybe for the same reasons than in France. I think about the irregular activities in architecture companies. I noticed some companies decide to interview "good profile" just in case of their activities would grow up… and finally they don't have more new projects and they decide to not hire new architects. As a result, I spend a lot of my time to prepare my presentation for this interview just to get nothing…it's just really frustrating…
3.The architecture design process is really different between most companies in the USA and the French companies. In the USA, most of the companies are working like an industrial firm from the construction industry (the most important is the profitability)… And it's the same thing for the design process (so the work of artist is not really valued in this case). Please allow me to share this judgment because the experiences for my last interviews go in this direction. Indeed, they seemed to prefer choosing a candidate with an expertise on REVIT instead of a creative person with a strong ability to make design proposals but not an expertise on REVIT. And unfortunately… I am the second one… Even though, I know a lot of similar tools.
Of course this reality bothers me because the behaviors of the companies preferring REVIT users to creators don't respect the fundamental definition of the architecture that is saying:
"The art or science of building; specifically: the art or practice of designing and building structures and especially habitable ones."
So not be thinking about art, it is forgetting the primordial interest of the architecture… Just to remind that… To be able to be an architect, we have to follow (minimum) 6 years of studies learning to be a future architect (where we're learning the process of architectural design/the art of design and building…), not to learn the use of a software (as REVIT) of course… Nevertheless, I am pretty sure that doesn't require studying 6 years at school to be an expert on REVIT…
4.In order to be able to work legally in the USA, I have to get a WORK PERMIT (by chance my husband has a VISA: L1 to allow me to get a L2 VISA and this one gives me the ability to work in the USA). I have to do a request to obtain my WORK PERMIT (or EAD). Once the request is processed, it takes about 3 months to finally get it. Strangely, I noticed I get more responses when I notify in my job application email that "I am legally able to work in the USA"… Since it's really expensive for most of the companies to handle a sponsorship, I know they don't like it. Actually, I learnt it during a discussion with a HR (Human Resources) working in the USA.
Now, they are concerned about L2 VISA because, unfortunately, this type of VISA is attached to the L1 VISA (so my VISA is attached to my husband's VISA).Clearly, if my husband is fired from his job, I lose my VISA so my eventual company loses me too… It's not really safe for the company, I understand that. But fortunately in my case, my husband is a hard worker with a small salary compared to his responsibilities and the local job market. His company knows that (we also know it) so the risk that his company will dismiss him is minimal.
In addition to this reality, I have some other WEAKNESSES I anticipated:
I belong to those people for whose French education has not been successful ... At least for languages! I am ashamed to say that I studied English for about 10 years (during my studies) and I am unable to speak it without making mistakes! And the worst is that some teachers disgusted me with the desire to learn languages! So, speaking English keeps on being a challenge for me… Not because I am unable to progress but just because I only fear to speak another language!
Why I am angry against French education? Because the French education has always blamed the mistakes and rewarded the success… Whereas current thinking would value more people who try even if they fail… However we have a famous idiom in French saying "C'est en forgeant qu'on devient forgeron" so "More you'll practice, more you'll be strong " or still "Practice makes efforts".
But today, I recognize the French education is in progress!
I am sure many employers, that I met with before, didn't realize about some efforts I had to do to stay "correct", "presentable" and "a good candidate"…(in addition to my language). Beyond my knowledge, I must have some strengths (like to be a hard worker, but maybe to be a sociable person, to be able to have a good behavior with my "future potential team"…). That is really easy for people who've grown up in the USA but, for me, I have to learn having the right behavior.
I have one anecdote… Maybe it's a ridiculous one but it's just for you to imagine. After two years living in the USA, I just learnt for Americans it's degusting to snuff... Apparently they prefer to sniff when they have a cold. I didn't have the time to check the information and, few days after I learnt this news, I had an interview. Unfortunately, I had a cold for my last interview! All the time during transportations, I was stressed because I needed to snuff (blow my nose in a tissue) but since it's not correct I just did not do it! Of course, just before I arrived in my interview, I took the time to snuff in order to not be embarrassed by that during my interview. So of course it's a detail but I have to think about so many things which are just "natural" for Americans! And unfortunately it's an additional difficulty that Americans aren't aware about.
I don't know if this is because the employer has to stay "neutral" during an interview but I felt I needed to do so many "efforts" to get my chance for obtaining a job. However, the employer never looked impressed by my "efforts". Maybe just because I think they don't realize it is a big effort for me...?
I think it was my first mistake during my first interview… The employer seemed so kind, so attentive, so interested, I was honest and said I had two young kids (3 years old and 1 year old…). At first, they did not seem to be disturbed by this information except that they insisted a lot on the possibility, for me, to be flexible! I know this type of discrimination is illegal in the USA. Even if it's illegal to make discrimination about the familial situation, unfortunately, I noticed employers didn't respect that with me! Actually I lived two situations I felt discriminated about the fact to be a mom with toddlers.
- The first time is for my second interview in the first company I met. I asked them if they were offering a part-time… They asked me if I could work for a full time position. I was not sure because my second son goes part-time to daycare and I didn't know if the daycare could accept my son for a full time position. So I answered I was not sure but I'd find a solution. 3 days after, they emailed me telling me that they understood the "part-time" was more adapted for me… But I replied that I found a solution for daycare and I was ready to work for a full-time. They never replied back to me after that…
I think they were worried about my familial situation and I told them about the situation with the daycare and they preferred to not take the risk to work with a mum having constraints… But if they never could tell me the right reason because I would have had a proof of discrimination so they preferred to keep the silence. Finally, I think I was too honest and that it put me at a disadvantage. I should have managed the issue with the daycare after getting an offer with this company!
- The second one, I illustrated it in my drawing (above). Openly, during a first interview, the employer asked me if I had kids. It was smart because she (it was a woman) asked me this in the context of a project she was presenting me. I could have been tempted to answer to show my interest in their project. But I was disappointed of my first experience to have sharing information about my "personal life", so I preferred to keep the silence. And in funny way, her colleague, also here to interview me, told her, "I think it's not an appropriate question"… and we moved on something else.
I feel it's not very common in the USA that employers are taking the risk to not respect the law. Why did I live this situation twice? Maybe in architecture, companies are more "permissive" about this subject…? Or maybe because my English is not perfect and they had confident thinking I don't know about laws in the USA? I don't know the reasons but unfortunately this fact was something hard to manage for me.
I know it's a challenge to find a balance between a familial life and professional life but it's my issue not the companies' issue. Beyond this bad experience, I just hoped to find this perfect balance. Now I know I have to make a sacrifice during next few years to be credible in my profession. Now I avoid giving personal information. Especially about my kids because I just want to get the chance to work again for my profession and my passion. And having kids, I will not accept again that it could be a pretext to not hire me!
Logically, be a mom is against me, because everybody knows constraints with having children… The need for flexibility of a last minute vacation or sick day… But I have some good case:
- With my husband, we're living just few minutes from his office (and he's quite flexible!) and so I can be flexible for my future job too!
- My husband has a lot of professional experience now (while I did my role as a mom) so he has vacations / sick days to take care of my sons if they get sick!
- He is working in a French company (more generous in terms of number of vacation days too! = more flexible for kids again!).
And I hope a company would realize I could be a very good element in their company… and they would decide to give me a chance!
---
WHY I HAD TO WAIT TO LOOK FOR A JOB?
Maybe you can think I had to wait too much for looking for a new JOB in my new country… But let me remind you, normally (everyday) living in a new country with new language, culture, habits… is already a challenge for me. I gave an example before the adaptation we have to do in this case but I can list the main reasons:
To decrease my weaknesses (read before)/ daily adaptation:
my family situation (in addition to what I already told you, I was pregnant when I arrived…the challenge is important enough in my situation today so, please, don't try to imagine how it was at this moment!) / the different culture / my language…
So I talked about my issue to learn a new language and the reasons but I can precise that I needed time to learn more English because my knowledge acquired during my studies was so scanty to communicate with people and everybody don't have the same ability to learn something… Sometimes I was surprise when I listened to someone telling "I can't draw that, it's too hard!"… For me it was so natural and simple to draw something you are watching… But people are not equal about their skills, so I am creative and I can produce easily many drawings but I have to do so many efforts to speak English so I needed just time!
The delay for obtaining the Work Permit:
Generally, in my situation, after the request for obtaining the Work Permit, the waiting delay to get it is about 3 months. I intentionally waited to be ready to work applying for my request of Work Permit, because the Work Permit has an expiration date and I preferred to have as much time as possible to increase my chances to be hired before it expires.
---
WHAT IS THE NEXT STEP?
Honestly, I don't know… Today I keep on looking for a Job as a designer/architect, even if I am aware of the complexity… I am unable to give up despite of the pain that it makes me to do so much effort without success… I talk about a pain because last months because of stress I developed a shingle… So it's not only figurative! I have to find this job (my body will definitely fail before my will)!
Why I can't give up? Simply because I fought too hard to become architect!
But, I can't tell this story right now because it is a very long story…
If you are a similar experience to share with me, don't hesitate to tell me!
---
IF YOU ARE ARCHITECT OR DESIGNERS ABROAD, JOIN THE GROUP ON FACEBOOK I CREATED ABOUT THE EXPERIENCE JOB BY CLICKING ON THE LINK BELOW or JUST BY SEARCHING THE GROUP "Architects/Designers Abroad - Job experience"
https://www.facebook.com/groups/164073180914869/
---
Sorry for French, I plan to translate this message in French very soon, thank you for your patience and of course thank you to other people for reading me :-)
Désolée pour les Francophones, je prévois de traduire très prochainement ce message en Français, merci pour votre patience, et biensûr merci pour les autres qui m'ont lu :-)